7730 - Electric Goods Train Set
1980-1982
512 pieces, 2 minifigs

instructions
booklet, 32 pages
14.6 x 21.0 cm (A5)

12V Starter Set
from 8 years
In 1980, the LEGO Train line was refreshed and re-launched into what has become known as the grey era. At that time, this was the smaller of the two 12v train starter sets, and as such, was a very important element of the product range. It was the first of only three sets that came with the red 12v motor.
A-Model
Compared to set 7710, the steam locomotive is more advanced: is has doors, windows, is has a motor, it doesn't look so basic. All in all, it is obvious that LEGO wanted to provide variety, even if things looked similar at first glance.
Like all steam locomotives from the grey era, the design is based on the steam engines of the German railroads, the Deutsche Bahn, which is most obvious from the red-and-black colour scheme. The 7730 locomotive looks like it's quite possibly based on a DB Baureihe 80, with the most notable similarities being the configuration of the steam domes and chimney, the location of the doors and windows, the black color of the pistons, the number and colors of wheels, the red buffers and ladder, and the small coal bunker directly behind the driver's compartiment. Also note the matching location of the 'stickers'.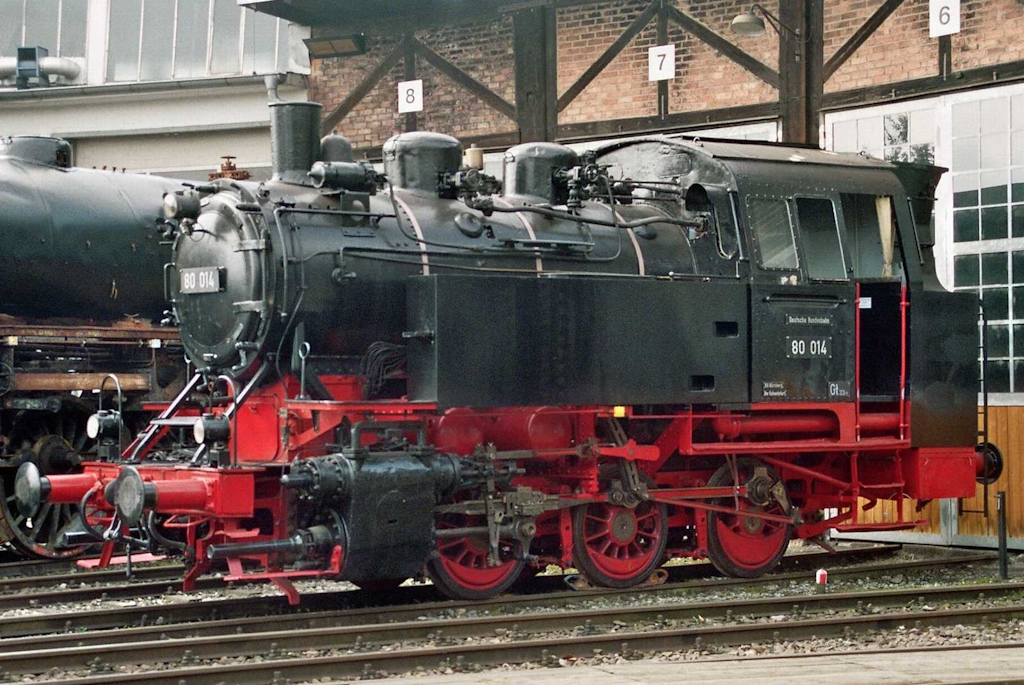 Deutsche Bahn, Baureihe 80
The set comes with three different goods wagons, all of them rather basic but with good playability. The configuration of the goods wagons draws inspiration from several earlier LEGO sets. Like set 725-2 from 1974, the wagons consist of a open-top hopper, a refrigerated boxcar and a silo rail wagon, albeit in a different permutation of colors. Even the train wheel at the front of the 725-2 locomotive returned in the 7730 design as a black steering wheel! The refigerated boxcar also looks like an upgraded version of set 147 from 1977.
The track is a complete circle with an additional total of two straight sections. The set also contains a working forklift (again, like 147), but no platform or ramp.
B-Model
This set offers 2 B-model locomotives. The first one is a second steam locomotive design. The design is of a similar design quality as the A-model locomotive, and it's quite possible this B-model design was at one point considered for the A-model. The second B-model locomotive is a small diesel engine, which is accompanied by a sort of cement-mixer like wagon.
Minifigs
Sticker sheets
Packaging (3D scan)
click to view the 3D scan

1980-1982
styrofoam inner box with plastic inlays and cover, flip-open lid

dimensions
57.8 x 23.0 x 9.2 cm

editions
132881: D/F/NL


Links & Downloads
7730-A.stud.io
7730-B.stud.io
BrickLink
Brickset
BrickEconomy