7810 - Push-Along Steam Engine
1980-1982
97 pieces, 1 minifig

instructions
leaflet, 2 pages
13.5 x 13.5 cm

Push-along Starter Set
from 6 years
In 1980, the LEGO Train line was refreshed and re-launched into what has become known as the grey era. As before, the most basic entry point into the range were two unpowered push-along sets, of which this 7810 was the smallest set.
A-Model
This A-model is a very basic designed steam engine, similar but different to the one from set 7710, and equally charming. It has a similar brick-built dummy motor, and comes with windows, but again no doors. The set is the first to use the red train base plate.
All in all, it doesn't look as if this set was a huge success, as it was dropped from the line-up after 1982 without a successor. But it shows, that LEGO wanted to provide supplemental sets for everyone, even for those who couldn't afford 12V sets.
B-Model
The B-model represents a small mining locomotive.
Minifigs
Sticker sheets
Packaging (3D scan)
LEGO® Trains 40th Anniversary Set (2020)
In 2020, LEGO celebrated the 40th anniversary of the grey era trains with a replica of the 7810 model. This replica, set 40370, was free for orders online at LEGO.com, in LEGO Stores and LEGO Catalogue telephone orders from 1 March 2020 to 15 March 2020.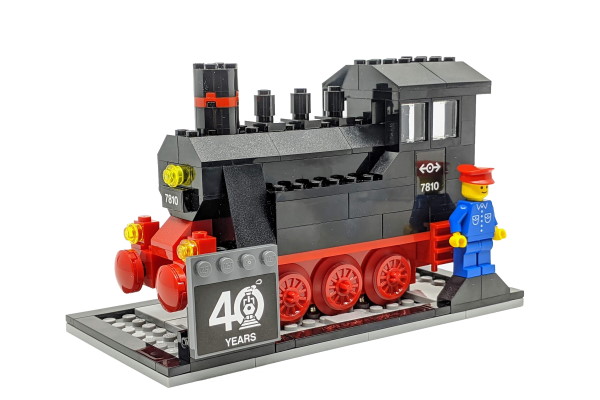 LEGO® Trains 40th Anniversary Set 40370
As some parts from 1980 are no longer available, the replica differs in a couple of ways from the original. Most obvious change is the defunct 6x16 red train base plate, which is replaced using several regular parts including 2 16x2 red plates. The train wheels have been replaced with the modern wheels on a red technic axle. The sticker on the side is now affixed to a single 1x2x2 brick, with the DB (German railways) logo being replaced with the standard LEGO one. The 1x2x2 windows are the newer version, without the sill. And strangely, the valve on top of the boiler closest to the cab is square on the original, but round on the replica.
The minifig is also replicated faithfully from the 1980 original. The set comes with a display stand which enhances its appearance considerably.
Links & Downloads
7810-A.stud.io
7810-B.stud.io
BrickLink
Brickset
BrickEconomy