7745 - High-Speed City Express Passenger Train Set
1985-1990
736 pieces, 10 minifigs

instructions
booklet, 32 pages
21.0 x 29.7 cm (A4)

12V Flagship Set
from 8 years
In 1985, Lego introduced a third wave of new Train sets, overhauling the starter sets. As before, there were two 12v starter sets, of which this 7745 was the flagship set.
A-Model
For its predecessor 7740, LEGO went looking for inspiration in Germany and stumbled across the Rheingold Trans Europ Express. For their next flagship of the Lego Trains line, LEGO turned its attention to France where it found the TGV, the Train Grande Vitesse or High-Speed Train. Back in those days, high-speed trains like the TGV and ICE were the big thing. LEGO was very up to date with this set, and the 7745 was a perfect reference to the 1980s Zeitgeist.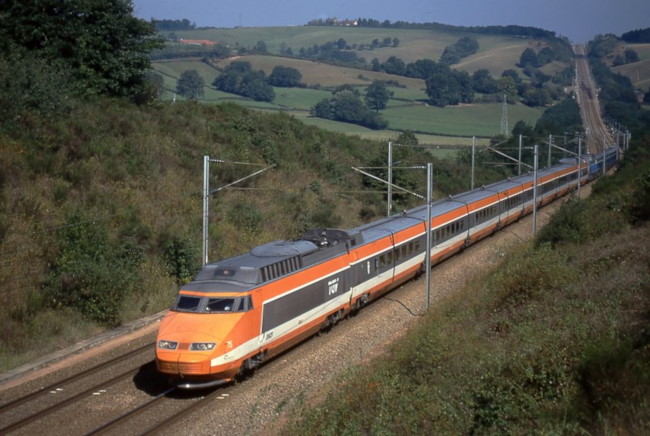 Train Grande Vitesse (TGV)
Like its predecessor 7740, the train is based on the huge 6x28 base plates. The orange of the TGV was translated into the nearest available LEGO colour at the, time, red. The red-with-white-stripes was a new colour scheme, one that was later re-used in some 9v sets (4563 and 4551). The first railcar is equipped with front lights, and the big transparent windscreen pieces (formerly used in space sets and as roof elements for town buildings) provide an arrow-like look. The engine has dummy engines behind the shutters, the pantographs design uses hinges, and at the front cupboards serve as a utensils' storage.
The passenger car in the middle is quite straightforward, not unlike the passenger wagon of 7740, but with the storage section for the passengers' suitcases carried over from 7715. The third and last car has a drivers' cab identical to the engine, but instead of the dummy engines, this wagon has a small dining area, courtesy of 7740. Looks like the chef got a new job! This car has lights as well, and the cables are wired throughout the train all the way from the motor at the front, hidden quite well underneath the passenger seats.
The track is a complete circle with a total of six straight sections, just like 7740. The set comes with a big station platform, allowing the abundance of minifigs to safely enter the train. The platform has two light posts, but they came without light bricks.
This set served as the flagship set of the Lego Trains theme until the end of the grey era in 1990. Of course years later, LEGO had another go at the TGV when it released the 10233 Horizon Express in 2013.
B-Model
The B-model consists of a very large steam engine, a station building with functioning light posts, and - very unusual - a train buffer stop.
Minifigs
Sticker sheets
Packaging (3D scan)
click to view the 3D scan

1985-1990
slide-out cardboard inner box with plastic inlays, flip-open lid

dimensions
57.8 x 28.7 x 9.4 cm

editions
180978: UK/F/B


Links & Downloads
7745-A.stud.io
7745-B.stud.io
BrickLink
Brickset
BrickEconomy