7750 - Steam Engine with Tender
1980-1982
263 pieces, 2 minifigs

instructions
booklet, 20 pages
21.0 x 29.7 cm (A4)

12V Locomotive
from 8 years
In 1980, the LEGO Train line was refreshed and re-launched into what has become known as the grey era. Besides two 12 Volts starter sets, LEGO als came with two 12 Volts locomotives, of which this 7750 is the larger one. It was the second of only three sets that came with the red 12v motor. The biggest and greatest of the grey era steam engines.
A-Model
A big steam engine, it is the only set to use the big red train wheels. This is the second of three sets that came with a red 12v motor, which in this set, in a stroke of genius, is hidden underneath the tender. The model is equipped with working lights, both at the front of the engine and at the back of the tender. The black 2x1 "cable" bricks are also unique to this set.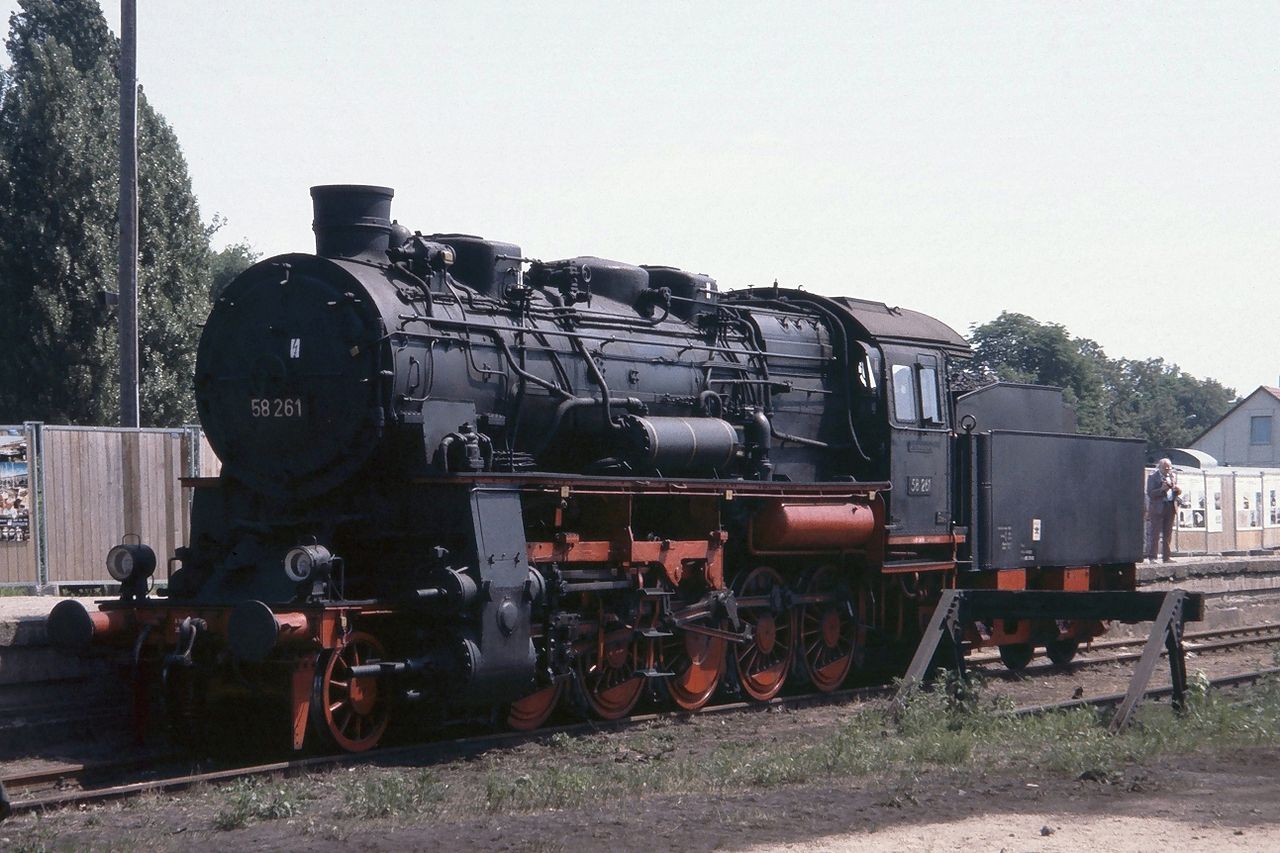 Prussian G 12
Like all steam locomotives from the grey era, the design is based on the steam engines of the German railroads, the Deutsche Bahn, which is most obvious from the red-and-black colour scheme. It's hard to pinpoint the exact model that served as the inspiration for 7750, but there were certainly similar looking steam trains around in the 20th century, like for exampe the Prussian G 12. A notable similarity is the absence of smoke deflectors (also called blinkers or elephant ears) at the front of the locomotive.
Ideas book 7777 contains instructions for a rather famous MOC based on 7750. This set was succeeded in 1983 by 7755.
B-Model
The B-model is a smaller steam engine, again with the red 12V motor underneath the tender. The large wheels used for the engine make it look a bit quirky.
Minifigs
Sticker sheets
Packaging (3D scan)
The box features 3 additional steam engine designs. Most interestingly, in the pictures that were used for the box, these models contain large wheels with open spokes. Apparently, LEGO was experimenting with open, spoked train wheels, but they somehow didn't make the final cut.
click to view the 3D scan

1980-1982
styrofoam inner box with plastic inlays and cover, flip-open lid

dimensions
37.9 x 23.0 x 6.9 cm

editions
133081: D/F/NL


Links & Downloads
7750-A.stud.io
7750-B.stud.io
BrickLink
Brickset
BrickEconomy