7860 - Remote Controlled Signal 12V
1980-1990
24 pieces

instructions
booklet, 12 pages
14.7 x 10.5 cm

Tracks
from 8 years
The grey era came with a great number of track options and accessories. Most were released in 1980, including this set 7860.
A-Model
Of all the accessoiries LEGO provided for the grey era, this set is arguably the coolest. This signal kit allows a train to be stopped and started remotely, all while other trains keep running. The lights of the corresponding signal post are switched from red to green accordingly.

a 7860 interrupted conducting rail
The set comes with 2 specifically altered conducting rails. From each of these rails, one of the 2 metal conductors has been interrupted. These 2 interrupted conducting rails are then placed into your layout, usually separated by 1 or 2 regular conducting rails. When placed correctly within the circuit (by aligning the black arrows on the conducting rails), the section between the two interrupted conducting rails is effectively cut from power, as indicated by the black section in the schema on the left. This will halt any passing train at that section. The signal post will show a red light.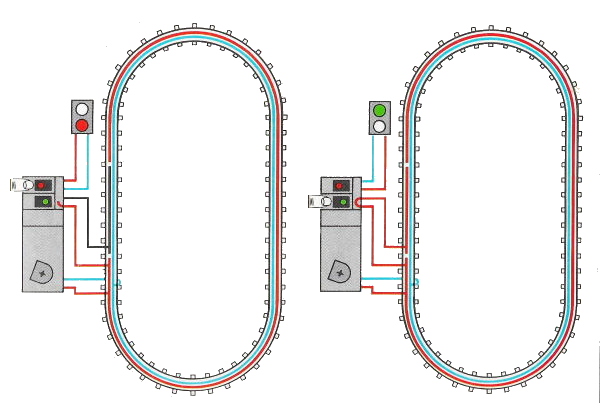 red (left) and green (right) signal
Once you press the green button of the controller, the controller reconnects power to the cut-off section, allowing your train to continue its journey. At the same time, the signal post will turn from red to green. Features like the signal are one of the main reasons for the grey era to be considered the greatest LEGO Trains period. In pre-digital times, dividing your track layout into individually powered sections was the only way to have multiple trains running.
Through the years, 3 variations of the interrupted conducting rail have shipped, either with or without the triangle pattern, and with the interuption either at the center or at the end of the conducting rail: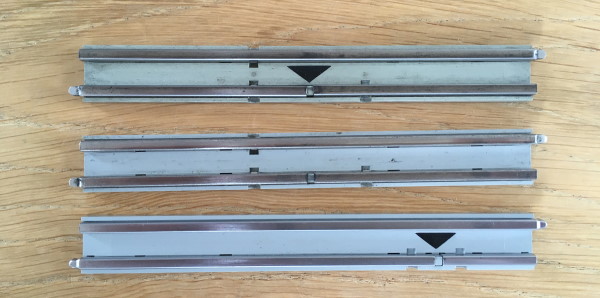 3 variations of the interrupted conducting rail
This set was available from 1980 all the way to the end of 1990.
Packaging (3D scan)
From 1980 to 1988, the box was made of styrofoam with a cardbox sleeve. From 1989, the box was redesigned without styrofoam.
version 1 (1980-1988)
version 2 (1989-1990)
Links & Downloads
7860-A.stud.io
BrickLink
Brickset
BrickEconomy